Helping myself to the coined-sized spices of hot salami off my Dad's large 'Italian without olives' was my first memory of pizza, which became my takeaway cuisine of choice as I reached maturity. More often than not, an order from my local shop would coincide with a movie, a common ritual that became enriched when I took my first bite of Bridle Road Pizza two years ago; thus embarking on a new journey through movies via pizza.
It began with a double-feature. Paul Schrader's 1982 re-imagining of Cat People; a film that will do things to your body chemistry, but the hot salami on my 'OK-USA Pepperoni' was like "putting out the fire with gasoline" to quote David Bowie's pulsating theme. Nevertheless, I wasn't complaining and the generosity of cheese matched the night's second feature of Elvia Mistress of the Dark, my first encounter with the busty figure of 80s horror. Cassandra Peterson herself even replied to a tweet I made in response to the film. Needless to say it was a memorable night.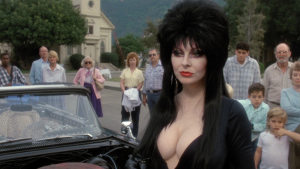 Curbing the effects of a stressful start to 2019 was achieved with a 'Morwell Onion' while enjoying the George A. Romero's Day of the Dead. It's not the most appetising choice, I'll grant you that, but the film's theme of consumption, being mostly human flesh, and some strange logic on my part that I think justified the indulgence. As for the pizza itself, well, I call it a godsend for everyone who has ever asked for an extra sprinkling of the popular topping. On my quest for a pizza with an edge, the 'Rosedale Bullfighter' became an instant favourite cemented by love of jalapeños, and I must credit the 'Bullfighter' for counteracting the mediocrity of Friday the 13th Part VII: Jason Takes Manhattan.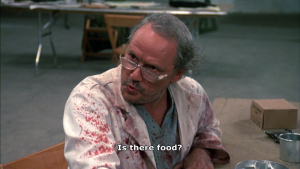 I took a leap of faith with the 'Chicken Big', which marked my entry into BBQ sauce territory and it didn't disappoint, not to mention the food coma it almost put in while watching All I Want for Christmas earlier this month. However, I'd be remiss if I didn't enlighten people to the "Basil Pesto", which I enjoyed while watching Joe Dante's love letter to William Castle, the underrated Matinee. Yes, it's kind of a gimmick, but who would have thought that placing the traditional pasta dish on a round slice of dough would work so well.
With a mural of the Teenage Mutant Ninja Turtles greeting customers, empty cans of diced tomatoes as light shade and a menu that actually entices you to explore, the people behind Bridle Road Pizza are creatives. There's even a pizza called "The Russell", my father's name, so if that not a sign of where I should be enjoying pizzas from, I don't know what is.
You'll find Bridle Road Pizza on Facebook and Instagram with a news feed so mouth-watering that upon discovering, I recalled that moment in Contact when Jodie Foster, overwhelm by the celestial beauty before her, utters the line, "Poetry. They should have sent a poet".
photos provided by Roxanne Rejmer
You can follow cinematic randomness on Twitter and Facebook where you'll find all my cinematic exploits. Thank you for visiting!