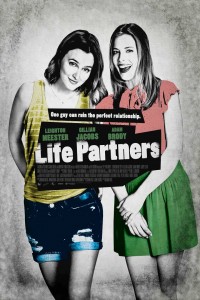 Two Californian women in their late 20s, Sasha who is a lesbian and Paige who is straight, are best friends. Both are single and enjoy a relatively care-free existence, but their co-dependent friendship is put to the test as Paige decides to embarks on a serious relationship with a guy for the first time.
At first glance you might be forgiven for branding Life Partners as a "chick flick", but fortunately it appeals far beyond its target audience. At its heart the film realistically explores the frustration and anxiety we feel when the lives of those close to us suddenly move in a different direction to that of our own; leaving us to ponder our own existence and ambitions with uncertainty. This bitter-sweet theme of change is expressed primarily through Sasha; a character who not all that long ago I could relate to. Sasha's sexual orientation is not significant to the story, although it does add an interesting dynamic to the film's recurring social scene, as she explores the world of dating, often to no avail. Leighton Meester and Gillian Jacobs both give terrifically vibrant performances as the two leads; their dialogue and constant banter feels very natural and realistic of two very close friends. Supporting performances from Gabourey Sidibe as a mutual friend and Adam Brody as Paige's love interest are also very good and provide some balanced comic relief; comprising of modern humour laced with subtly and sarcasm, which I found particularly entertaining.
Unlike the a number of films with themes relating to homosexuality, Life Partners doesn't push any political agenda; it's simply a romantic comedy about the pursuit of happiness.
LIFE PARTNERS
(2014, dir: Susanna Fogel)
★★★½
You can follow cinematic randomness on Twitter and Facebook where you'll find all my cinematic exploits. Thank-you!